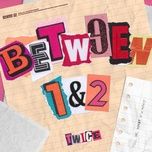 Bài hát Talk That Talk
- TWICE
213,374
Lời bài hát: Talk That Talk
Ca sĩ: TWICE
Nal boneun Eyes sshik unneun Lips
Mame deulji I like it (Oh yeah)
Ne A to Z kkwae dalkomhae (That's right)

But I wanna skip (Just skip)
*** gyeoljeongjeogin Thing (That thing)
Bolloneul weonhae bingbing dollin
Seoron ttawi malgo (I mean L word)

*** *** *** *** *** *** boyeojweo (boyeojweo)
Neo neo neo neo neo neol allyeojweo (allyeojweo)
Jigeum nan Need some hints
Chaeugo isseo neoran Crosswords

Beep beep beep beep beep, the time is up
Nan imi al geot gajjiman
Ne moksoriro baro deutgo shibeunde

Baby nae dabeun ppeonhajana YES or YES
Milgeona danggineun
Gwaenhan shigan nangbineun shireuni
Gwagamhage Say it now weonhae 1 to 10
Shijakhaebolkka Right now

Tell me what you want
Tell me what you need
A to Z da malhaebwa
But shijageun ireoke hae
Talk that talk ttak han madi
Talk that talk L-O-V-E
Deullyeojweo Ooh
Now now now now now yeah
Yeah turn it up

Neoye nun Look look look
Wiaraero Roll roll roll
Ilkeotjana mweo picha
Nunbit sai ogo ganeun mal

Chageunchageun 1, 2, 3 (Just 1, 2, 3)
*** chinjeolhage ABC (Like ABC)
Don't stop and just replay replay
(Yeah that's my only request)

Baby nal ango dalkomhage (dalkomhage)
Tell me now (Just tell me now)
Ttaeroneun ppeonhan mari ***
Jotaneun geol aljanhni

Favorite part jigeumiya (Want it more)
Now we're almost there
Shijakhaebolkka Right now

Tell me what you want
Tell me what you need
A to Z da malhaebwa
But shijageun ireoke hae
Talk that talk ttak han madi
Talk that talk L-O-V-E
Deullyeojweo Ooh
Now now now now now yeah

Dansunhan Words saranghandaneun mal
Geuge daya nan kkumimeopshi deutgil weonhaji
Miruji ana neoege dagaga
Nan shimpeulhage
Da malhalge I love you

Tell me what you want
Tell me what you need
A to Z da johjiman
Nan i mari jeil joeunde
Talk that talk ttak han madi
Talk that talk L-O-V-E
Oh yeah it sounds so good
*** ppajyeodeureo puk

Tell me what you want
Tell me what you need
Han beon *** haejweo
Geurae banggeum geu mal
Talk that talk ttak han madi
Talk that talk L-O-V-E
Deullyeojweo Ooh
Now now now now now yeah
Yeah turn it up
Mô Tả Về Bài Hát Talk That Talk ...
Thể Loại Nhạc Hàn đã có ca khúc Talk That Talk do các ca sĩ TWICE thể hiện. Các bạn có thể nghe và tải bài hát, playlist/album, MV/Video miễn phí tại Tai Nhac.

Ca nhạc mới Talk That Talk do ca sĩ TWICE thể hiện, thuộc thể loại Nhạc Hàn chất lượng - Tải Nhạc Nhanh - ca nhạc mp3, nghe nhạc mp3 mới nhất, tải nhạc hay trực tuyến nhanh nhất tại TaiNhacMoiNhat.Com.

Chỉ cần nghe nhạc mỗi ngày thôi chúng ta cũng thấy yêu đời hơn, hãy nghe nhạc tại TaiNhacMoiNhat.Com mỗi ngày nhé.